Memorandum of understanding (MoU) signed by Rexsoft Co., Ltd.,Gwangju Private, Govt

Date : 22-06-29 16:54
Hit : 743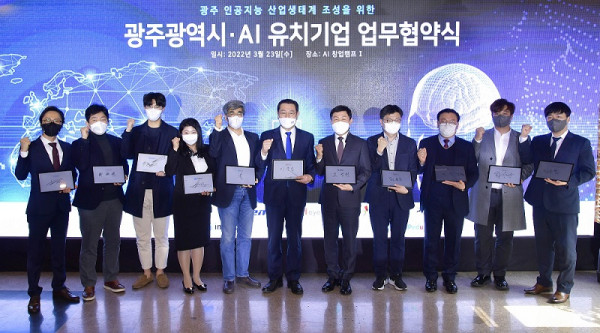 [Simin Ilbo Gwangju, Reporter Jeong Chan-nam] The procession of companies seeking to do business in the "AI-centered city" Gwangju continues this year as well.
On the 23rd, Gwangju Metropolitan City signed agreements with 10 AI companies, including RexSoft, B2EN, ITIZ, ODN, Wayne Hills Ventures, EmoLive, IndieProg, ChainBridge, To-Digit, and Fairrip Edu, at the AI Startup Camp Ⅰ for the 136th to 145th agreements to actively cooperate in establishing the Gwangju AI industry ecosystem by establishing corporate bodies or regional offices for each company.
On this day, Mayor Lee Yong-seop, as well as Im Cha-sik, director of the AI Industry Convergence Business Team, RexSoft CEO Won Seong-ho, B2EN CEO Cho Kwang-won, ITIZ CEO Lee Seong-nam, ODN CEO Hwang Yong-hee, Wayne Hills Ventures CEO Lee Soo-min, EmoLive CEOs Lee Wan-wan and Shin Beom-sik, IndieProg CEO Seo Ji-hee, ChainBridge CEO Heo Jo-hoon, To-Digit CEO Park Seok-jun, and Fairrip Edu CEO Lee Beom-jun attended the agreement ceremony.
In the agreements, companies agreed to collaborate on the development and commercialization of AI technology to foster specialized talent and create new jobs in the Gwangju region.
The main contents of the agreements include ▲ performing technology development and commercialization for creating a specialized AI ecosystem in Gwangju ▲ promoting the establishment of Gwangju corporations or regional offices for fostering talent and creating jobs in the field of AI ▲ developing and operating various corporate support programs and promoting AI industry ecosystem ▲ planning and promoting education and employment programs for AI professionals.
Company representatives stated, "Through these agreements, we will do our best to achieve the goal of becoming global companies based in the AI-centered city of Gwangju," and added, "In addition to company growth, we will actively cooperate in fostering specialized talent and creating new jobs provided by Gwangju."
Mayor Lee Yong-seop mentioned, "Out of the 135 AI companies that have signed agreements with our city, 94 have already opened corporations, offices, or research labs in Gwangju," and he stated, "Gwangju will do its best to create concrete and tangible results, such as creating a sustainable plan for AI companies that have settled in Gwangju, attracting globally competitive companies, and providing services that allow citizens to directly experience the AI-centered city."
RexSoft is a bio big data data science solutions company that develops and supplies platforms for analyzing bio big data such as clinical, genomic, environmental, and life program data, and promotes the supply of solutions and systems for diagnosing aging and chronic diseases through the fusion analysis of individual medical data.
B2EN is a data specialist company with expertise in big data processing, AI quality diagnosis solutions, and AI analysis expert groups. They are working on developing predictive models for elderly health, building a reality-responsive AI metaverse silver care platform, and developing metaverse content for dementia prevention and cognitive enhancement.
ITIZ is an AI big data solutions company that provides financial my data services and is expanding its business to the health care field with the construction of the My Healthway system, and it is an AI-specialized listed company.
ODN is a company that aims to provide AI-based environmental change prediction and decision-making services to marine industry practitioners, including fish farming, by collecting ocean environmental data through IoT device distribution.
Wayne Hills Ventures possesses AI algorithm technology called 'Wayne Hills AI pro,' which automatically converts vast text and documents of TTV (Text to Video) into digital video content. They are planning overseas expansion in 2022.
EmoLive offers a service that provides real-time automatic translation in the user's language when using a smartphone or PC for real-time communication with someone whose language is different in 1:1 chat, as well as 1:1 group chat, 1:1 group video call and conference, and live broadcasts.
IndieProg is a company that develops AI coding education content, with products such as iF series robots that allow coding education in Python and C/C++ languages, and they are developing various wearable devices and smart devices in the healthcare field.
ChainBridge is a startup that possesses inspection solution and deep learning tool technology that can be immediately applied to various industries based on machine vision and AI technology, and they have achievements such as winning 2nd place at the 2020 Small and Medium Venture Business Administration AI Championship and jointly developing solutions based on the demand of domestic major companies' manufacturing sites.
To-Digit is a fintech company that seeks to innovate finance through financial AI. They have plans for the business of 'News Salad,' which provides various stock investment information by analyzing real-time economic news about the Korean and American stock markets, and the business of 'Plum,' a stock collateralized loan P2P financial service.
Fairrip Edu is a company that provides VR Metaverse English education solutions and various digital services, including edutech businesses as well as AI, big data, platform development, and metaverse content production.